Event information [lower thing hina festival]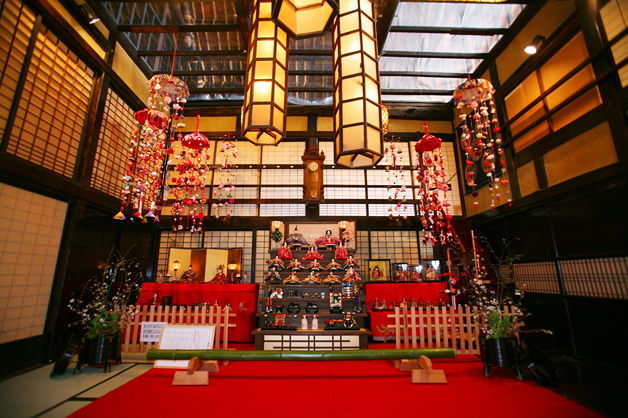 We lower, and thing is celebration of girl started for the former Yanagawa feudal clan era.
When girl is born, "we lower and decorate as thing" in front of cloth work and traditional Yanagawa mario, hina step which we get 1 stitch on kimono nohagirede sent by relative acquaintance, the happiness of life of the child one stitch while praying and gave.
[period]
 From Saturday, January 28 to Friday, March 31
[holding place]
  The country Konnos of Dewa
Lower; reason of thing
Waiting maid is remainder cloth of kimono, and, in manners and customs to come to Yanagawa-shi, Fukuoka, thing which made toy and plectrum case of child lowers them gradually in the Edo era and comes to enjoy, and it is said that we hang before long and changed model into young bird.
We wrap Chikuwa of 50cm with red cloth formally and hang 7 X 7 = 49 for handicraft and Yanagawa mario alternation, and full length exceeds 170cm.
Wish of parent that most child live long even for one year is loaded with by adding extra-large Yanagawa marino two lines to life 50 years and times, this said, and doing with 51.
We lower, and kind of thing means
Cicada: Symbol, mouse of patience: Having many children, butterfly: Parental affection, chick which we let you dress up neatly and want to give to wife: Attractiveness and innocence,
Crane (tortoise): Longevity, plum (flower): Tortoise which endures cold, and blooms in spring: Woman is amiability, gourd: Perfect state of health, treasure bag: Rich heart,
Clams: Do not have an interview with two husbands, prawns: Even if is bent; still spirit
The origin of the Girl's Festival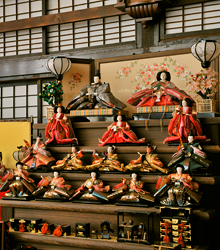 It dates back to the Heian era in the origin of the Girl's Festival. There were five festivals called "Dolls' Festival" "Iris Festival" "Star Festival" "Chrysanthemum Festival" in "the seventh day of January", and these were important events to expel impurity of seasonal turning point for nobles in those days. One "Dolls' Festival" of these becomes the later "Girl's Festival".

We picked up medicinal herb in hills and fields on day of "the Dolls' Festival" and prayed for health and good luck charm. This event fused with "hiina play" in the Imperial Court (game with dress-up doll of paper) and developed to "floating paper doll celebration" to let paper doll undertake own accident, and to drain into river.

This festival takes root on March 3 in the Muromachi era. Decoration came to celebrate luxurious hina doll not baby of paper grandly in the Imperial Court and became model of the current Doll's Festival.
Is it emperor and empress dolls and the hina doll left? Is it the right?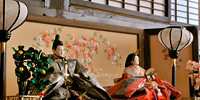 It was said that left (the east) was holier than the right from emperor southern aspect father way of thinking from ancient times in Japan. Male doll went these days and was arranged for the right. However, we do that we post that modern times begin, and the Emperor Taisho imitates it because we stand to the right in West type, and enthronement ceremony was performed and we leave and post male doll to the left to type, the right in the present age with ancient rite and are that it is not mistake both.
Search plan from accommodation date