Yasuragi House …It is 2-story accommodation ridge made by old folk house style where hinoki half room with open-air bath was fixed.
Seseragi House …It is new building along mountain stream of Nurumigawa that likened guest room to "post town" in "highway" in each floor passage.

We put bait box of chicken in guest room of murmuring building outside window.
Morning in HATAGO distantly remote from the noise of town,
Why don't you wake in lovely song of small birds?
We may find playing small figure if we look in the outside of window quietly.
※Kind and the number of chicken coming by season and weather change.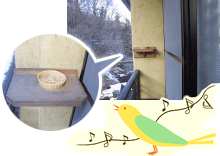 Room
Search plan from accommodation date